OpenScape Alarm
OpenScape Alarm Response Professional (OScAR-Pro) V3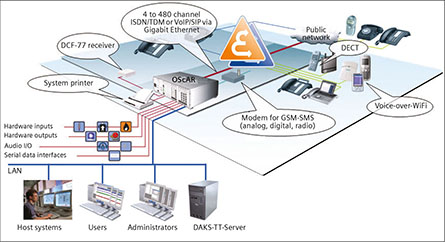 ... can be scaled in a wide range (4 to 480 channels) and offers connectivity to traditional telecommunication systems (via S0/S2M using the QSig/CorNet-NQ protocol) as well as to VoIP systems (e.g. via Gigabit Ethernet using the SIP/SIP-Q protocol).
... communicates with telephones (stationary, cell phones, DECT, WLAN), pagers and also with PCs or PDAs via special Web Clients.
... answers calls, dials subscribers, interconnects NF sources and connects subscribers for bilateral calls or conferences.
... offers special emergency functions in OpenScape networks.
... provides information via announcements, or display texts, or SMS messages.
... communicates with host systems and with external sensors or relays
... locates telephones and tags/medallions in both DECT and WLAN infrastructures.
... can control public address (PA) systems and much more.
These capabilities enable OScAR-Pro to realize a variety of different alarm, communication and security services, all of which are described in detail below.
Broadcasting and alerting
Alerting, informing and mobilizing
The ability to simultaneously or sequentially alert and inform individual or multiple subscribers via phone or text messaging enables the creation of security systems in many operational areas. Such systems can: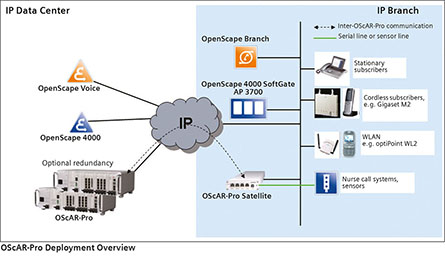 Mobilize emergency personnel in fire departments, rescue and emergency services (also in conjunction with external command and control computers
Initiate targeted evacuation of industrial sites and buildings (e.g. hotels, department stores) in the event of fire and other emergencies
Simultaneously notify police, hospitals,schools, media etc.
Exchange information between headquarters and branch offices
Connect calls to care staff via DECT/WLAN phones (in conjunction with paging systems and callback to patient rooms)
Conduct emergency calls and locate casualties, also in combination with socalled Patient Monitoring Systems
Transmit fault reports from external systems such as industrial control systems,or warning systems to mobile service engineers
Important information can be distributed fast and reliably. Staff are more mobile and no longer have to perform time-consuming,routine tasks where there is a high risk of error.